Aix en Provence market : a must-see in Southern France
Aix-en-Provence is a charming and historic city located in the Provence region of France. Known for its rich cultural heritage, beautiful architecture, and vibrant atmosphere, Aix-en-Provence is a popular destination for both tourists and locals.
One of the city's notable attractions is its food market, "Les Allées Provençales." This bustling market is a food lover's paradise, offering a wide array of fresh and local Provencal products. Visitors can explore stalls filled with colorful fruits, vegetables, herbs, cheeses, olive oils, and artisanal bread, showcasing the region's culinary treasures.
At "Les Allées Provençales", you can experience the true essence of Provençal cuisine, with an abundance of regional specialties such as ratatouille, bouillabaisse, and lavender-infused honey. The market is not only a place to shop for fresh ingredients but also a hub of culinary creativity, with numerous food stalls and eateries serving delectable dishes made from the market's produce.
Aix en Provence market : check local products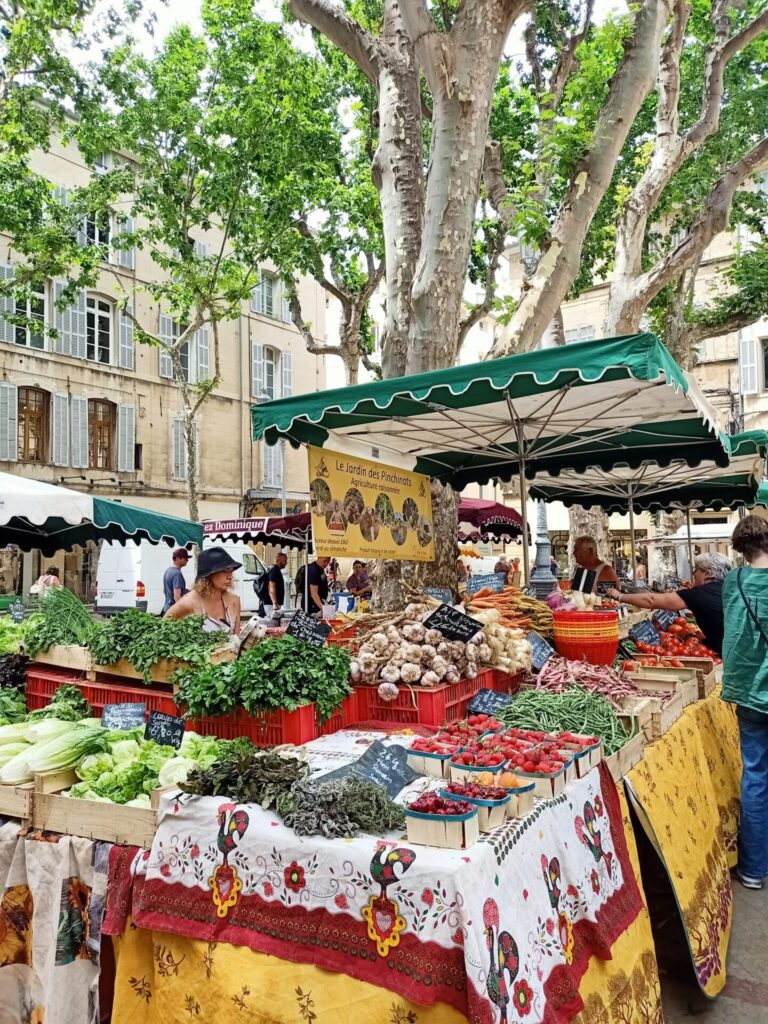 The Place Richelme food market is a delightful and quintessential Provençal market located in the heart of Aix-en-Provence, France. This historic square, named after Cardinal Armand-Jean du Plessis de Richelieu, is transformed into a lively food market every Tuesday, Thursday, and Saturday. It's a cherished tradition that brings together local producers and passionate food vendors, offering a delightful shopping experience for both residents and tourists.
At Place Richelme, you'll find an impressive array of fresh and seasonal products that define the Provençal culinary scene. The market stalls are brimming with colorful fruits and vegetables, fragrant herbs, sun-ripened tomatoes, and an assortment of olives. You can also discover a variety of artisanal cheeses, charcuterie, and traditional baked goods, including crusty baguettes and mouthwatering pastries. The market's ambiance is enriched with the lively chatter of vendors, enticing aromas, and the pleasant sound of clinking glasses as patrons enjoy a glass of local wine.
This bustling marketplace is not only a place to purchase fresh ingredients but also an opportunity to immerse yourself in the local culture and savor the authentic flavors of Provence. As you stroll through Place Richelme, you can sample regional specialties such as tapenade, lavender-infused honey, and artisanal nougat. It's a great spot to interact with friendly vendors who take pride in their offerings, and you can engage in conversations about the origins and preparation of the products on display. The Place Richelme food market is a must-visit destination for those seeking an authentic Provençal food experience in a charming and picturesque setting.
Taste local products at the Aix en Provence market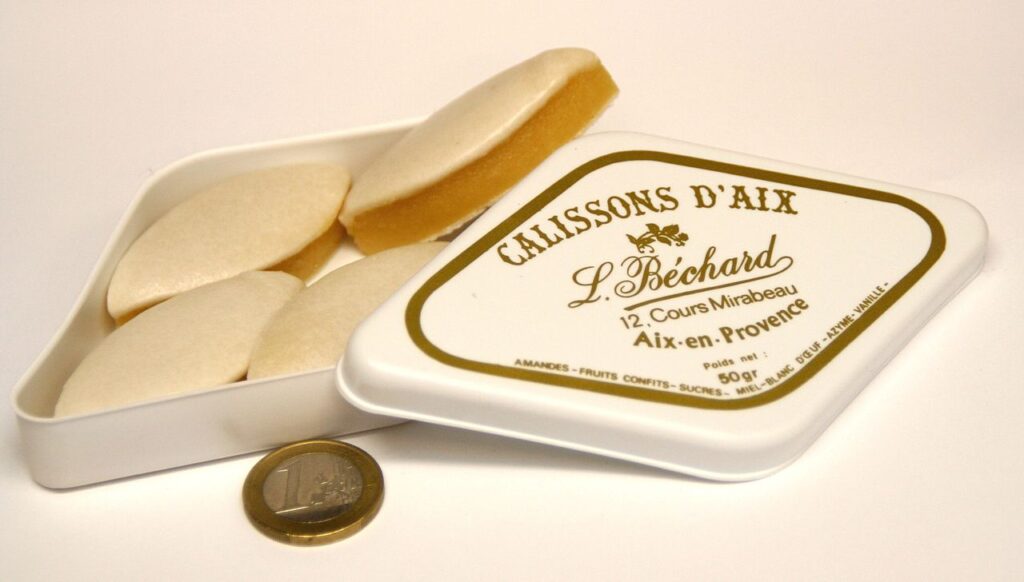 When visiting the Place Richelme food market in Aix-en-Provence, don't miss the opportunity to taste one of the region's most beloved confections: calissons. Calissons are iconic almond-shaped candies with a soft, fruity filling and a smooth layer of royal icing. They have a delightful combination of flavors and textures that make them a cherished treat in Provence.
You can easily find vendors offering freshly made calissons at the Place Richelme market. These sweet delicacies come in various flavors, with the classic variety featuring a blend of ground almonds, candied melon, and orange blossom water. Take a moment to savor the sweet and slightly nutty taste of calissons, and appreciate the craftsmanship that goes into creating these traditional confections. They are not only a delightful treat but also a taste of the region's culinary heritage. Enjoying calissons at Place Richelme is a delightful way to experience the authentic flavors of Provence and bring home a sweet memory of your visit to this charming market square.