Cours Mirabeau : a must-see in Provence
Aix-en-Provence, often referred to simply as Aix, is a picturesque and historic city located in the Provence region of southern France. It is renowned for its elegant architecture, charming streets, and a rich cultural heritage that dates back to the Roman era. The city's central feature is the Cours Mirabeau, a tree-lined boulevard lined with grand mansions, cafes, and fountains, creating a delightful ambiance for leisurely strolls and people-watching. Aix-en-Provence is famous for its thermal springs, and visitors can still enjoy the benefits of these natural waters at various spas and wellness centers in the city.
The city is also known for its artistic legacy, as it was the home and inspiration for the famous Post-Impressionist painter Paul Cézanne. You can visit Cézanne's studio and explore the landscapes that served as subjects for many of his masterpieces. Aix-en-Provence is a city that seamlessly blends its historical charm with a vibrant cultural scene, including numerous festivals, theaters, and a thriving culinary culture. It's a city where visitors can immerse themselves in the quintessential Provençal lifestyle, with its sun-drenched squares, markets bursting with local products, and a relaxed pace of life that captures the essence of southern France.
Cours Mirabeau in the heart of Aix en Provence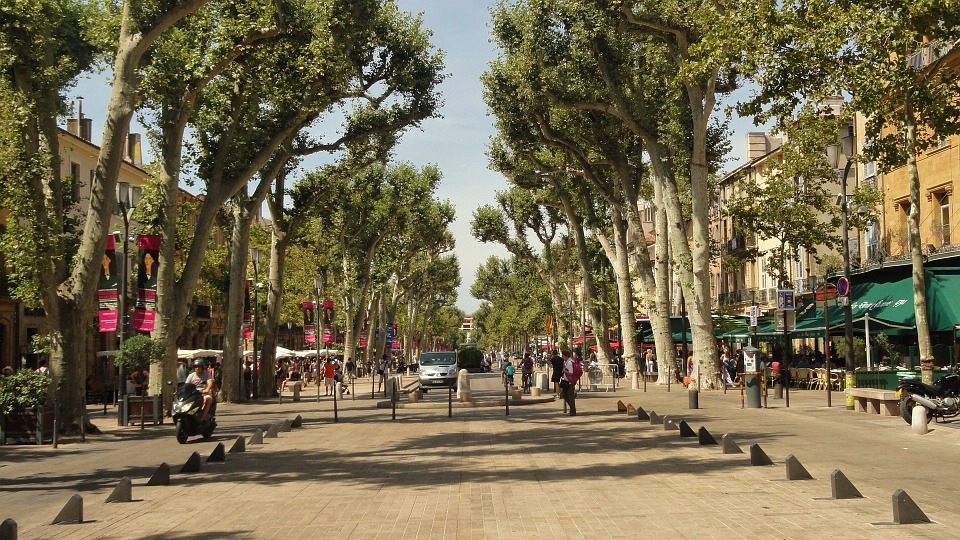 Cours Mirabeau is the iconic central boulevard of Aix-en-Provence, a charming city in the Provence region of southern France. This elegant thoroughfare is the heart and soul of Aix, and it's a place where history, culture, and local life intersect. Lined with centuries-old plane trees, Cours Mirabeau is a place of beauty and charm, creating a delightful atmosphere for both locals and visitors.
Along Cours Mirabeau, you'll find a plethora of cafés, boutiques, and restaurants, inviting you to savor the renowned Provençal cuisine while watching the world go by. It's a hub of social activity and a gathering place for residents and tourists alike. Strolling along the boulevard, you'll come across elegant fountains, historical buildings, and mansions with ornate facades that reflect the city's rich architectural heritage.
Cours Mirabeau is not only a place for leisure but also a window into Aix's history, as it connects the old town to the modern city. It's named after the famous Aixoise lawyer and revolutionary, Honoré Mirabeau. The boulevard encapsulates the spirit of Aix-en-Provence, where the past harmoniously meets the present, creating a truly special and vibrant experience for anyone exploring this enchanting city.
The Cours Mirabeau : the best place to check local products !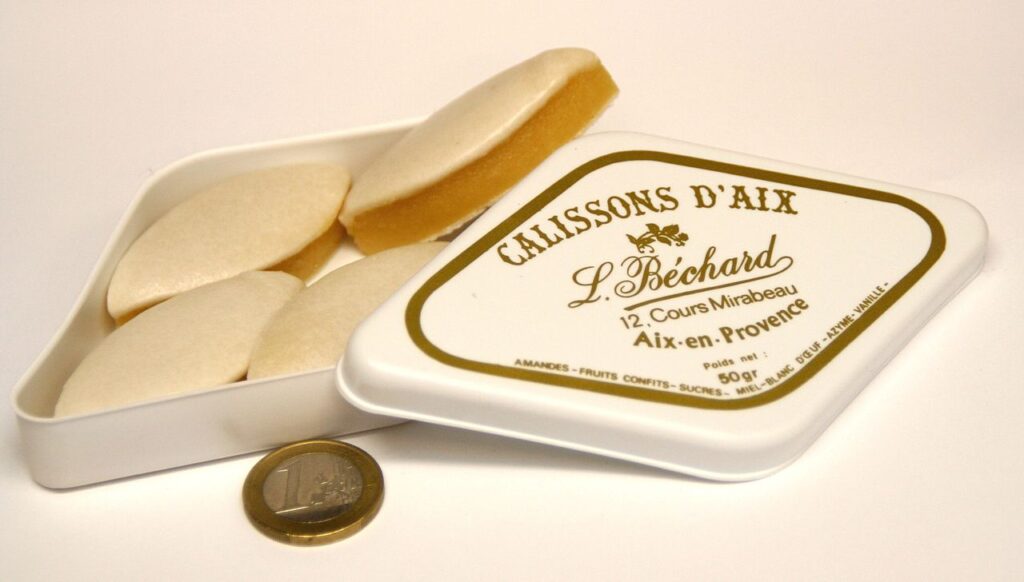 Cours Mirabeau in Aix-en-Provence is an excellent place to sample the iconic local delicacies, including the calisson and pastis. Calissons are a traditional Provençal sweet treat, made with a paste of almonds and candied fruits, often flavored with orange blossom water. These almond-based confections are usually shaped like small, flat lozenges and are a delightful blend of flavors and textures. They are readily available at various pastry shops and boutiques along Cours Mirabeau, allowing you to savor this quintessential Provençal delight while taking in the charm of the boulevard.
For those interested in experiencing the local beverage, pastis, Cours Mirabeau is a fantastic place to do so. Pastis is a traditional anise-flavored liqueur that is widely enjoyed in the Provence region. You can find pastis in many of the bars and cafés along the boulevard, where you can order a glass of pastis mixed with water, creating a refreshing and aromatic drink. Sipping on pastis while people-watching on Cours Mirabeau is a wonderful way to immerse yourself in the Provençal culture and enjoy the vibrant atmosphere of Aix-en-Provence.