Arles Van Gogh : a must-see in Southern France
Arles and Van Gogh make for a fascinating artistic duo! Arles, a town in the south of France, played a significant role in the life and work of the renowned Dutch painter Vincent van Gogh.
Van Gogh lived in Arles from 1888 to 1889, where he created some of his most iconic works. The sunny landscapes, sunflower fields, and picturesque architecture of the town greatly inspired his art. Iconic places like the Café de Nuit and the Bedroom in Arles were immortalized on canvas by Van Gogh.
The famous painting "Starry Night" was also created in Arles, capturing the starry sky above the town. Van Gogh found an endless source of inspiration in Arles, although this period was also marked by episodes of mental struggles.
Today, Arles pays tribute to its connection with Van Gogh through sites like the Fondation Vincent van Gogh Arles, which showcases works of contemporary artists while celebrating the legacy of the Dutch master. It's a captivating artistic and historical journey into a pivotal period in Van Gogh's life.
Arles Van Gogh : on the footsteps of the painter !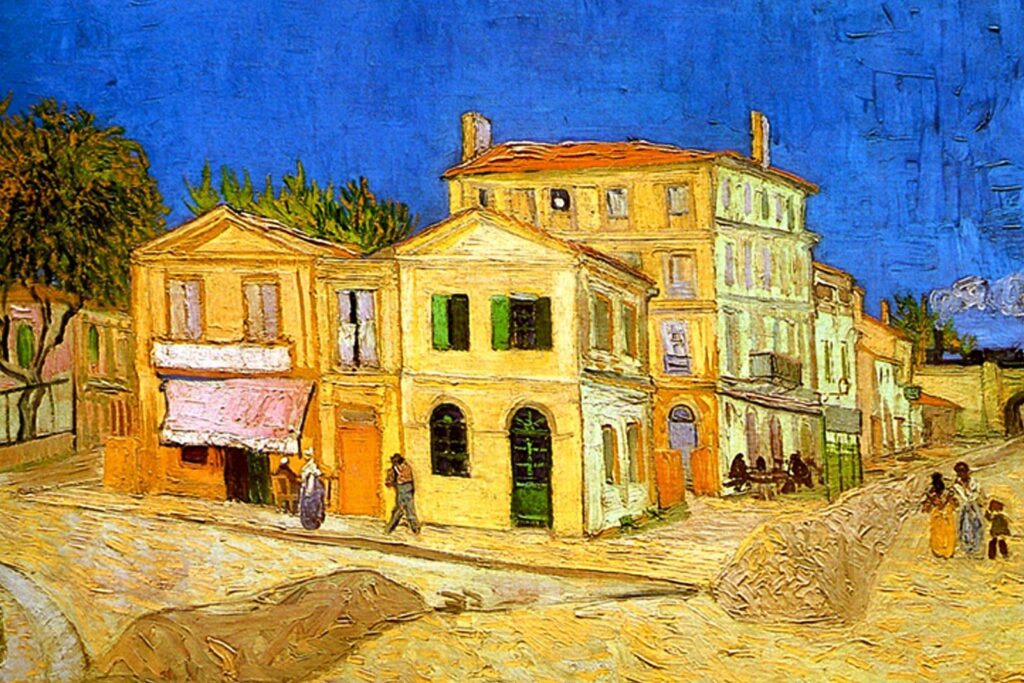 Vincent van Gogh's residence in Arles, often referred to as the "Yellow House" (Maison Jaune), is a place of historical and artistic significance. Van Gogh lived in this vibrant yellow-painted house from September 1888 to May 1889. During this time, he produced some of his most celebrated works.
The Yellow House served as both Van Gogh's home and studio. It was here that he hoped to create an artist's collective, envisioning a space where like-minded painters could work together. However, this dream was short-lived, and Van Gogh's time in Arles was marked by both artistic brilliance and personal challenges, including the famous incident where he cut off part of his own ear.
Though the original Yellow House was destroyed during World War II, a reconstruction effort was made, and today visitors to Arles can see a replica of Van Gogh's residence. The site offers a glimpse into the environment that fueled the artist's creativity during his time in this picturesque Provencal town.
The coffee shop of Van Gogh in Arles
Van Gogh's association with a café in Arles is often linked to the famous painting "Café Terrace at Night" (original title: "Le Café de Nuit"). The café depicted in the painting is believed to be the Café Van Gogh, located at 9 Place du Forum in Arles.
In this iconic painting, Van Gogh captured the vibrant colors of the night, portraying the café terrace bathed in warm yellow light. The starry sky above adds a touch of magic to the scene. The Café Terrace at Night is not only a beautiful work of art but also a representation of Van Gogh's fascination with the play of light and color.
Today, the Café Van Gogh in Arles is still in operation, and visitors can enjoy a meal or a drink in the same place that inspired one of Van Gogh's masterpieces. It's a wonderful blend of art, history, and the everyday life of Arles that continues to attract admirers of Van Gogh's work.