Visit Marseille : The must-sees
Marseille, situated on the southern coast of France, is a vibrant and culturally rich port city known for its Mediterranean charm. With a history dating back over 2,600 years, it is one of the oldest cities in France. Marseille boasts a picturesque waterfront, offering stunning views of the azure sea, and is famous for its bustling Old Port (Vieux-Port), where colorful fishing boats bob along the quayside. The city's diverse cultural heritage is evident in its cuisine, a blend of Provençal and Mediterranean flavors, and its lively markets, like the Cours Julien, which showcase local artisans and international influences.
The city is also home to various iconic landmarks, including the historic Basilique Notre-Dame de la Garde, a Catholic basilica perched atop a hill, offering panoramic views of the city, and the MuCEM (Museum of European and Mediterranean Civilizations), an architectural masterpiece dedicated to the rich history of the Mediterranean region. Marseille is a melting pot of cultures, with a significant North African and Mediterranean influence, contributing to its unique and multicultural atmosphere.
Marseille is not just a picturesque tourist destination; it's a bustling economic hub and a gateway to the Mediterranean, with its port being one of the largest and busiest in Europe. The city's maritime industry has a long history, and it continues to play a vital role in international trade. Marseille's mild climate, beautiful coastline, and rich cultural tapestry make it a desirable destination for travelers, and its thriving arts scene, music festivals, and vibrant street life ensure there's always something exciting happening in this dynamic French port city.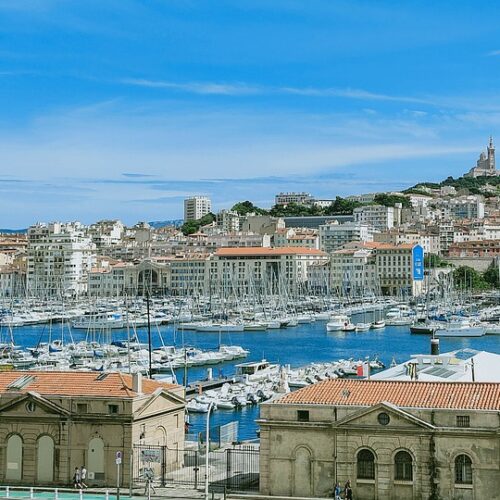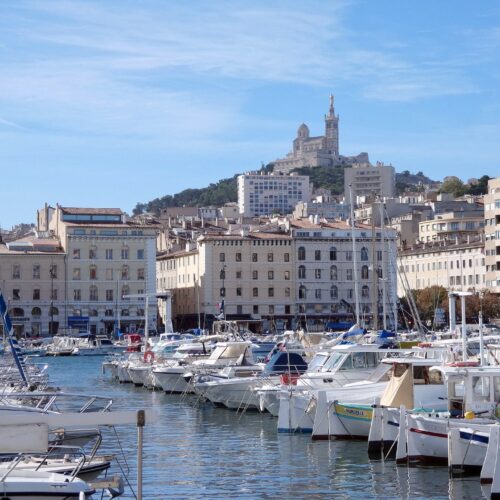 The Old Port of Marseille, known as the "Vieux-Port," is a historic and iconic waterfront area located in the heart of Marseille, France. Dating back to 600 BC, it is one of the oldest and most picturesque ports in Europe. The Old Port has been a central hub of activity for centuries, serving as a vital economic and cultural center for the city.
The Old Port is famous for its picturesque setting, with colorful fishing boats and yachts lining its quaysides, and the backdrop of the city's historic architecture. Strolling along its promenades, visitors can take in the stunning views of the Mediterranean Sea and the majestic Basilique Notre-Dame de la Garde, which overlooks the port from a nearby hill. The Old Port is not just a scenic spot; it's a lively and bustling place, filled with cafes, restaurants, and markets where locals and tourists gather to enjoy fresh seafood, shop for local products, and soak in the vibrant atmosphere.
The Old Port also plays a significant role in the cultural life of Marseille. It is the starting point for various maritime events and regattas, and it hosts numerous festivals and celebrations, including the renowned "Fête du Vieux-Port." Additionally, it serves as a transportation hub, with ferry services connecting to nearby islands and coastal destinations, making it a gateway to exploring the beautiful coastline of the Mediterranean. The Old Port of Marseille is a symbol of the city's maritime heritage, a focal point for its daily life, and a must-visit destination for those seeking a blend of history, culture, and stunning waterfront views in this vibrant French port city.
Visit Marseille : the Notre Dame de la Garde Basilica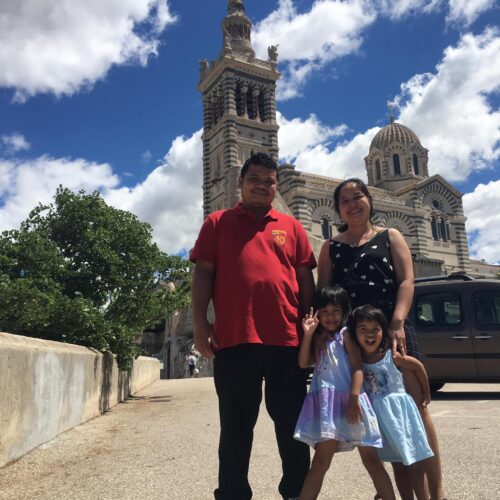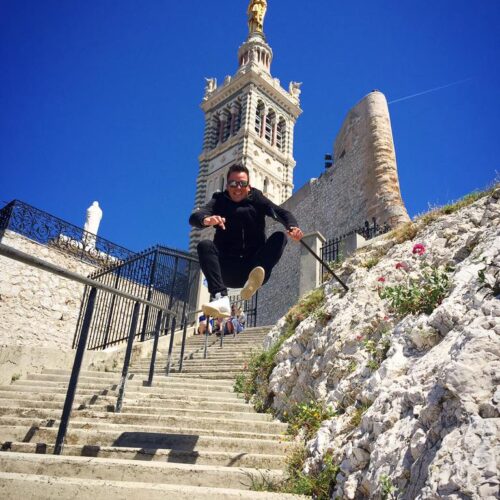 The Notre-Dame de la Garde Basilica, often referred to simply as "La Bonne Mère" by the locals, is one of the most iconic and beloved landmarks in Marseille, France. Perched atop a limestone hill that rises 149 meters above the city, this majestic basilica offers breathtaking panoramic views of Marseille and the Mediterranean Sea. The basilica's construction began in 1853 and was completed in 1864. Its architectural style is a stunning combination of Neo-Byzantine and Neo-Romanesque influences, with a distinctive green and white color scheme that makes it visible from many parts of the city.
Notre-Dame de la Garde is not only a place of religious significance but also a symbol of protection for the city and its people. At the top of the basilica's bell tower stands a gilded statue of the Virgin Mary holding the infant Jesus, which serves as a protective figure for Marseille's sailors and fishermen. Visitors can explore the interior of the basilica, adorned with intricate mosaics and religious artwork, and learn about its history in the adjacent museum. Whether for spiritual reflection or to admire the stunning vistas, a visit to Notre-Dame de la Garde is a must when exploring the vibrant city of Marseille.
Explore the calanques of Cassis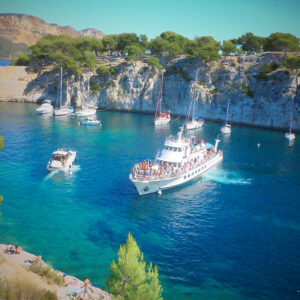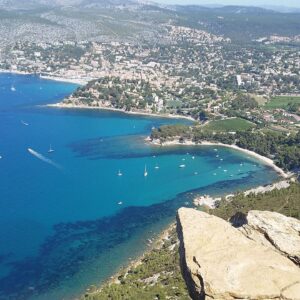 The Calanques of Cassis, a breathtaking natural wonder located along the Mediterranean coast near the town of Cassis in southern France, are a series of stunning limestone inlets and cliffs that extend for approximately 20 kilometers. These unique geological formations are characterized by narrow, deep coves with crystal-clear turquoise waters, often surrounded by high, white limestone cliffs that provide a striking contrast to the deep blue sea. The Calanques offer an array of outdoor activities, including hiking, rock climbing, swimming, and boating, making them a popular destination for nature enthusiasts and outdoor adventurers.
These extraordinary landscapes are not only a haven for recreational activities but also a protected national park known as the Calanques National Park. The park encompasses a rich biodiversity of flora and fauna, with a variety of rare plant species and marine life. Hiking trails wind through the dramatic terrain, offering visitors a chance to explore these remarkable coastal landscapes and enjoy breathtaking views of the Mediterranean. The Calanques of Cassis represent a perfect fusion of natural beauty, geology, and outdoor adventure, making them a must-visit destination for those seeking a unique and picturesque experience along the French Riviera.
Taste local products from Marseille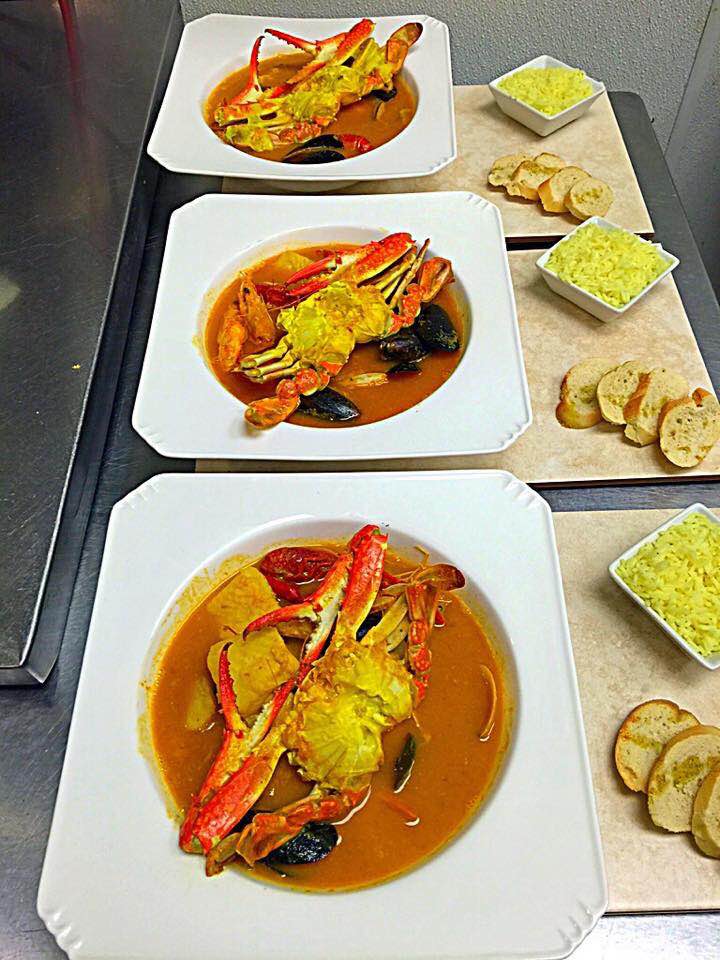 Visit Marseille France : Taste the Bouillabaisse, a fish soup
Marseille, a city rich in culinary traditions, is known for several local products that have become synonymous with its culture and cuisine. Two of the most famous ones are bouillabaisse and Pastis:
Bouillabaisse: Bouillabaisse is a traditional fish stew that originated in Marseille. It is typically made with a variety of local Mediterranean fish, such as red rascasse, sea robin, and John Dory, along with shellfish like mussels and crabs. The dish is flavored with a mix of herbs and spices, including garlic, fennel, and saffron. It is usually served with a side of rouille, a garlicky mayonnaise-like sauce, and crusty bread. Bouillabaisse is a true representation of the region's maritime heritage and the rich flavors of the Mediterranean.

Pastis: Pastis is an anise-flavored liqueur that is highly popular in Marseille and throughout the Provence region. It is often enjoyed as an aperitif and is typically served diluted with water, which turns it from a clear, yellowish liquid into a milky, cloudy beverage. Pastis has a licorice-like taste and a refreshing, herbal quality, making it a perfect choice for warm Mediterranean afternoons. The drink is not only a symbol of local culture but also an essential part of the social fabric, where friends and family gather to share a glass and relax.
Both bouillabaisse and Pastis offer a taste of the Mediterranean and are deeply rooted in the culinary and cultural heritage of Marseille, making them essential components of the local gastronomy.